Twitter - utilising lists
Running your business
Twitter - utilising lists
Lists can be a very effective tool in enhancing your Twitter experience.
What are Twitter lists?
Lists are essentially groups of Twitter users. Creating a list can help you categorise users on Twitter and ensure you can easily view just the tweets of those who you choose.
You can create your own lists or subscribe to lists created by others. You can view a list timeline which will show you a feed of Tweets from only the users on that particular list.
Top Tip
A Tweet cannot be sent exclusively to members of a list, your tweet will be seen by all of your followers.
Public or private?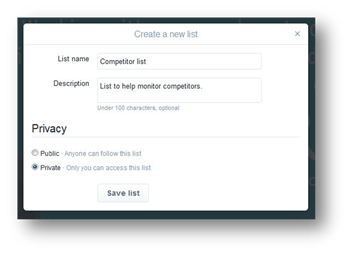 Twitter lists are can be set as either public or private when they are created.
Private - only the creator can see and only the creator can add members. Therefore if you set up a private list it is visible to you only. Any users that are added will not be sent a notification and will not be aware they appear in this list.
Public - everyone can see and anyone can add themselves. Whenever the owner adds a user they will be notified when they access Twitter or via email (varies based on personal settings).
It is possible to change the status once set up but be careful as if you are intending to create a private list and accidentally select public you will send notifications to all in your list, therefore making them aware of it!
Why should I use Twitter lists?
Previously in my 'Introduction to Twitter' I have talked about the importance of building your network by find users which may interest you. This in itself throws up another potential issue in managing the people/accounts you follow.
The main benefit of using lists is to keep your connections organised. You can create manageable groups for anything you like which can be very helpful in categorising interests, topics, users etc.
This in turn is a big time saver as you avoid having to sieve through lots of tweets to find the content that is of interest to you at any particular time.
Top Tip
Add yourself to your own list - that way you ensure that your tweets get shown to all the people who subscribe to the list you created. This will help increase your exposure.
Example lists you could create and benefit from:
'Local pharmacies' - set up a private list to help you monitor what competitors are doing and generally keep a tight grip on your market.
'Valued customers' - not only will this help you keep in touch with your customers but also gives those customers a sense of added value to your pharmacy and potentially create a sense of loyalty.
'Industry news' - to help you keep in touch with any industry news eg, you could add MHRA for any drug alerts or C+D for general pharmacy news.
'Staff list' - this can help to create a sense of belonging within employees and also prompt anybody that is not on Twitter to get on board. You may also learn more about the people in your business.
Top Tip
List names cannot exceed 25 characters and cannot begin with a number.
How to use Twitter lists?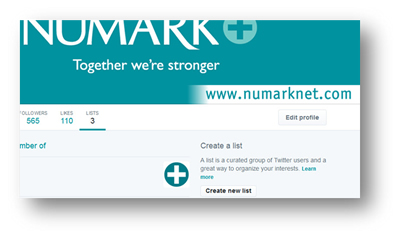 To create a list:
Go to your profile page (click your profile image or click your name).
Click on the 'Lists' tab underneath your profile banner.
Click 'Create list' on the right hand side of the page.
Enter a name and a short description of the list. Select if you want your list to be private or public.
Click 'Save list'.
You will then be prompted to search for contacts to add to your list.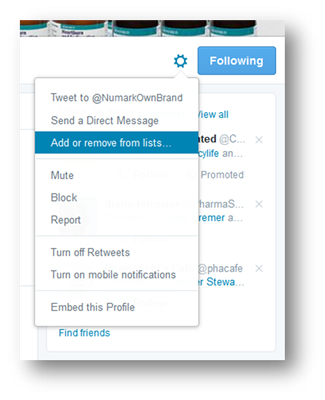 Add or remove people from your lists:
Go to the relevant users profile and click the 'Gear icon'.
On the drop down menu select 'Add or remove from lists'.
Your created lists will then appear. Tick the lists you would like to add that user to, or remove the tick from the lists you'd like to remove the user from. Simply close the box and your changes will be saved.
To take a look at your lists and ensure all your additions and deletions have been successful you can access the lists tab on your profile page. From there click your required list and then 'Members' of that particular list will be displayed.
See lists that you are on:
Go to your Lists page and simply click on 'Member of' tab.
A few more top tips!
Keep your lists relatively small - the suggested sizes are between 20 and 200. However, this will vary dependent on how many users you follow - therefore you will need to tailor this to your account. Just try and make the list a sub section of your followers and not the vast majority as if you include 70% of your followers it will defeat the purpose of the list.
Maintain your lists - when you get a spare minute try and take a look through your lists as users may become less relevant or new relevant users may come on board.
Adding those you don't follow - you can add users to a list even if you are not following them.
Looking to do any of the following?
Find a list's URL to share
View Tweets from a list
Edit or delete lists
Subscribe to/follow other people's lists
The Twitter help centre is on hand with assistance.
Don't forget to follow us on Twitter
Feel free to have a look through our followers list to find users that may interest you.
Sponsored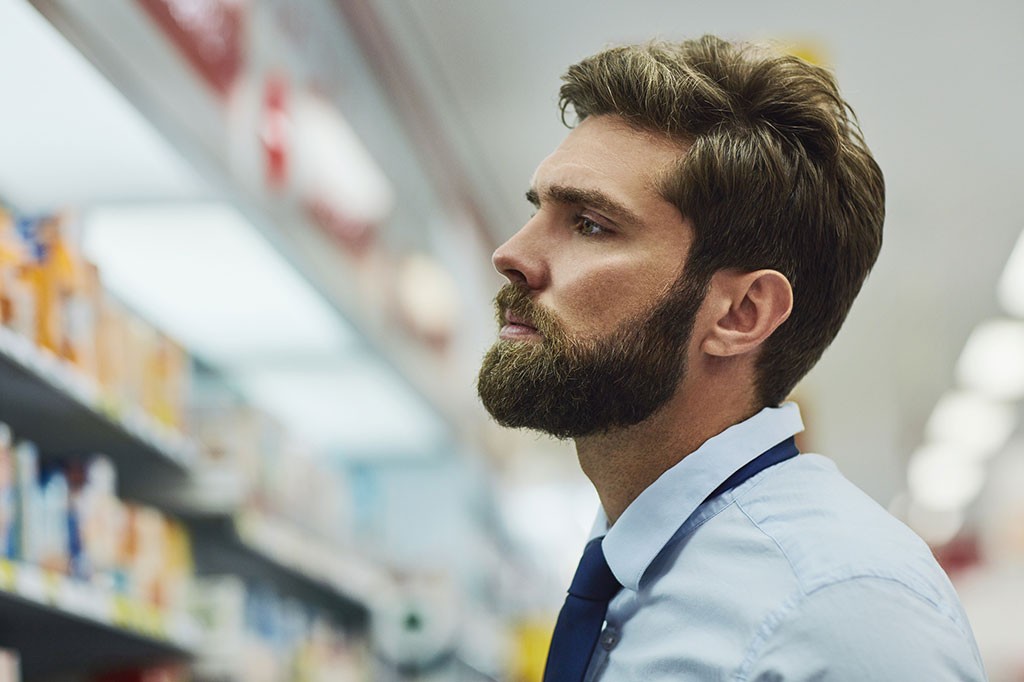 OTC
Get back to basics on the causes and impact of erection problems so you can confidently support your male customers
OTC
Complete this interactive video to rethink your pain recommendations and ensure you offer every customer the most appropriate advice
Record my learning outcomes