Calendar of template tweets
Running your business
Calendar of template tweets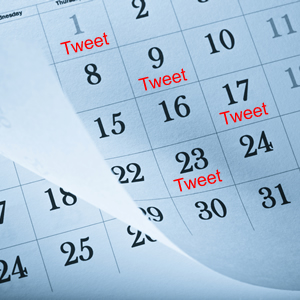 Below is a collection of tweets designed to save you time in composing tweets and also to prompt you as and when relevant dates for your customers are approaching and therefore when you have an opportunity on Twitter.
The below revolves around health awareness dates, potential services you may offer and other general dates for you diary.
Please note these are suggested tweets and as such are not suitable for all members.
Things to consider
Look to add imagery to your tweets as this will likely increase your exposure significantly.
You can edit the tweet before publishing - add your personal touch and that unique personality that helps you stand out from the crowd.
Tweet at the right time - during peak times you are far more likely to make an impression.
If you tweet is focused around ordering a product (and you have an ecommerce platform) or accessing specific content then add the link to your tweets to make your followers end goal as easy as possible.
The below list is not a definitive one, each pharmacy is different and as such you should consider adding appropriate dates/events for you.
Take a look at our 'Making the most of Twitter - 10 top tips' article for other tips.
To tweet you can simply click the link below each template. If not already logged into Twitter you will be prompted to do so.
Health Awareness Dates
Allergy Awareness Week - April
Don't let hayfever get the better of you this year.
Great deals on all your remedies.
#AllergyAwarenessWeek
No smoking Day - March
What better time to give up than NoSmokingDay.
Pop in and ask us how we can help.
#NoSmokingDay
Stoptober - October
It's time - Stoptober is here.
Pop in and find out how we can help you quit.
#Stoptober
National Smile Month - May
Could you improve your oral health?
Pop in and get involved in
#NationalSmileMonth
Get your summer smile with National Smile Month.
Come and take a look at our oral healthcare deals.
#NationalSmileMonth
National Eczema Week - September
It's National Eczema Week and we are here to help with any queries or help you may need.
Pop in and give us a try.
#NationalEczemaWeek
Other Dates For Your Diary
November/December
Christmas is fast approaching!
Pop in to see our great range of #XmasGifts
It's nearly upon us!
Visit us for some great last minute #XmasGifts
November/December/January
Brrrrrrrr - it's getting cold out there.
Worry not - we are on hand with all of your winter remedies.
#WinterRemedies
Late December/January
Our January Sale has arrived!
Grab yourself a bargain. Stock is limited so be quick!
#JanuarySale
Early January
Looking to start a new healthy lifestyle this year?
Pop in and we will be happy to help.
#NewYearNewYou
April/May/June/July
Are you all prepared for your summer holiday?
Suncare, travel sickness, first aid - we've got you covered.
#SummerEssentials
August/September
Have you seen our 'Back to School Deals'?
Great savings for you and your little ones.
#BackToSchool
Services
Flu
Take a minute or 2 to beat the flu.
Ask us about our flu vaccination service.
#FluRemedy
Travel
Are you travelling abroad soon?
Our pharmacist can give essential travel vaccinations.
#TravelAdvice
Stop smoking
Do you need support to stop smoking?
Ask us about our stop smoking service.
#StopSmoking
Malaria
Need anti-malarial medication?
Ask us about protecting you and your family from malaria.
#Malaria
Delivery service
Regular repeat? We can deliver your medicine to you at your home.
Pop in to find out more.
#AskYourPharmacist
Medicines use review
Want to better understand why you are taking your medicines?
Call in anytime for a FREE medicines use review.
#AskYourPharmacist
Any queries about how you should be taking your medicines?
Ask us how our FREE medicines use review will help.
#AskYourPharmacist
Experiencing side effects from your medication?
Ask us how our FREE medicines use review will help.
#AskYourPharmacist
Other
Consultation
Not feeling too good? Can't get in the doctors?
Why not pop in and see us for a discreet consultation.
#AskYourPharmacist
Loyalty Scheme
Got one of our loyalty cards?
Don't forget to use your completed cards for £3 off your next purchase!
#LoyaltyScheme
Managing your allergy
Have you got an allergy? Are you managing it correctly?
Come and see us for discreet advice.
#AskYourPharmacist
Sponsored
OTC
Understand how different laxatives work so you can make the best recommendations for your customers
OTC
Learning for the pharmacy team
Record my learning outcomes