Prescription charges in UK countries
Pharmacists
Prescription charges in UK countries
In the years following devolution of NHS administration to the individual countries of the UK, the way patients pay for their prescriptions has changed. All prescription charges were abolished first in Wales in 2007 followed by Northern Ireland in 2010 and Scotland in 2011. The traditional charging and exemption system still operates in England.
Confusion can arise over what to charge when a patient from a devolved country presents a prescription in an English pharmacy and vice versa. This can be quite a common occurrence in crossborder areas; for instance if a patient from Wales presents a WP10 form in England, or if an English patient presents an FP10 in a Welsh pharmacy.
The rules can seem complicated, but the table shown at the end of the article summarises the guidance and can be used as a handy reference guide.
Do patients from devolved countries pay a prescription charge in England?
Patients from Wales and Scotland must pay a prescription charge if they get their prescription dispensed in England, unless they meet one of the exemption criteria for England (see below). Patients who have been charged in this way may be able to reclaim the costs in their home country and an FP57 receipt form should be issued to facilitate this.
Patients from Northern Ireland presenting the newer HS21CS prescription form do not pay any charges no matter where their prescription is dispensed.
Do patients from England pay a prescription charge elsewhere in the UK?
All prescriptions presented in Northern Ireland, even FP10s issued in England, will be dispensed free of charge according to Northern Ireland's Health and Social Care Business Services Organisation (HSC BSO).
A patient presenting an English FP10 prescription in Wales or Scotland must be charged at the current English rate (£8.80 at the time of writing). The only exceptions to this are if the patient is exempt from prescription charges under English rules or has a valid Entitlement Card (see below). The contractor should ask to see evidence of exemption.
In Scotland any prescription charge that is liable will automatically be deducted from the contractor's monthly NHS payment. Note that if the exemption declaration is not completed on the reverse of the FP10 then a charge may still automatically be deducted and the contractor may be out of pocket.
In Wales, FP10 prescriptions with charges paid must be sorted into Group 2 prior to submission to the pricing authority. FP10s dispensed free of charge must be sorted into Group 1A (no charge but exception applies). They will then be manually processed and the contractor will not be out of pocket.
What happens if a patient is resident in a devolved country but is registered with an English GP?
In the border areas a patient could live in one country but their doctor could be in another country, impacting on whether they should be charged or not. Patients who live in Scotland or Wales but are registered with a doctor in England can get their prescription dispensed for free (in their home country) if they hold a valid Entitlement Card. Patients must apply for this card and application forms are available from their local Health Authority.
How do Welsh and Scottish pharmacies process patients with an Entitlement Card?
The Entitlement Card must be presented at the point of dispensing in order to receive free prescriptions. If it is not presented the patient must pay a charge and refunds are not permitted. The personal details and address on the Entitlement Card must match the information on the prescription. If there is any difference, the card cannot be accepted and the English charge will be payable.
Note that there is currently no 'tick-box' for Entitlement Cards on the reverse of the FP10 form.
NHS Scotland advises that contractors should input the patient charge on the form as £0.00 and that FP10s issued by known cross-border practices will be manually checked by PPQ.
In Wales, the FP10 prescription must be sorted into Group 1A (no charge but exception applies) before submitting to the pricing authority. It will then be manually checked.
In both cases we advise you to clearly write on the reverse that the card has been presented and verified, perhaps including any reference or NHS number.
Meeting the English exemption criteria
As discussed above, Welsh and Scottish patients do not have to pay prescription charges in England if they meet English exemption criteria. However, in order to claim the exemption they must be eligible and should be able to show evidence of exemption. For criteria such as medical exemption certificates or HC2 certificates the patient is highly unlikely to have applied for them as there is no need in their home country.
As an example, a Welsh patient taking levothyroxine for hypothyroidism, or perhaps metformin for type 2 diabetes, would have no need to apply for a medical exemption certificate as all prescriptions are already free. In the absence of a certificate they would not meet the exemption criteria and would have to be charged. Similarly, there may be different social benefits in Wales and Scotland which are not listed on the reverse of the FP10 and again, the patient would not be exempt. If a charge is made the patient could be provided with an FP57 receipt.
It would appear that the only guaranteed exemptions would be age-related and the free-of-charge contraceptive. If a patient claims an exemption (other than an Entitlement Card, above), evidence should be requested and if not provided, the 'Evidence not seen' box crossed.
Further information
For information on free prescriptions in Northern Ireland visit the HSC BSO website
For further information on exemptions and prescription charges made in England see Part XVI (Notes on Charges) of the England and Wales Drug Tariff; Section 4: People Entitled to Exemption
For full guidance on sorting prescription bundles in Wales and the use of Group 1A see the Shared Care Services website.
For information on Entitlement Cards for people living in Wales but registered with a doctor in England, see NHS Direct Wales; Local Services.
For further information on Entitlement Cards for people living in Scotland but registered with a doctor in England, see the Practitioner Services Division (PSD).
Members can also contact Numark Information Services on 0800 783 5709 option 2.
You can also find a large library of queries relating to the drug tariff here.
Summary guidance on charging for prescriptions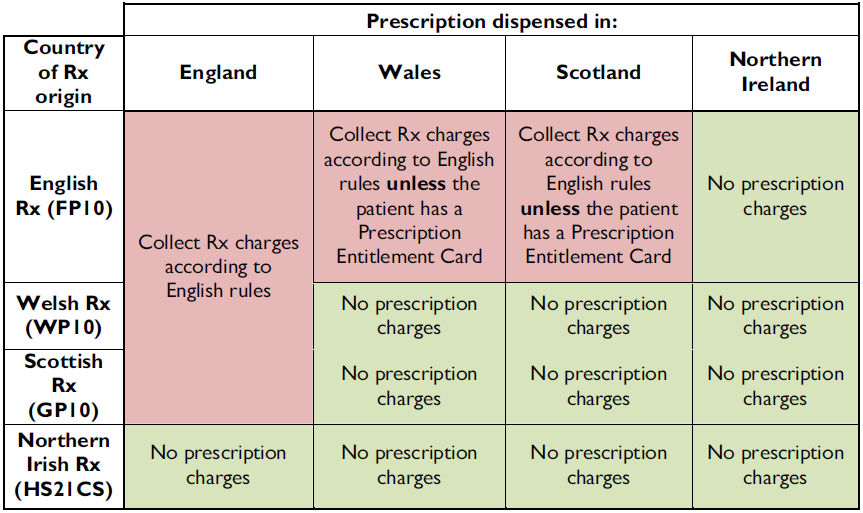 Sponsored
OTC
Understand how fungal nail infections develop and help manage customer expectations around treatment
OTC
This short video will help you refresh your recommendations for hayfever and understand how different treatments target varying symptoms.
Record my learning outcomes